2010 - 2010
'Do Your Own Thing' & 'Find Your Own Solution'
Synopsis
Bristol City Council is currently in the process of completing a number of new schools in the City under the Building Schools for the Future (BSF) programme. Included in this series is Ashton Park Secondary School. Situated on the western edge of Bristol and within the Ashton Court Estate – a registered Grade 1 historic landscape – the school is a post-16 centre for South-west Bristol and a Sports Specialist College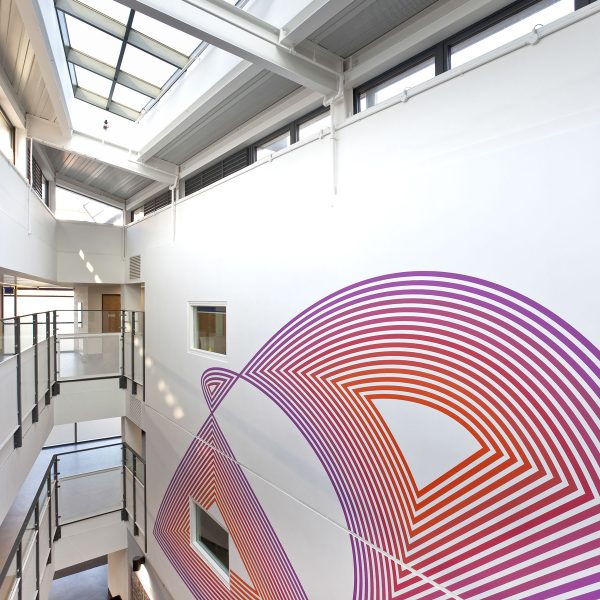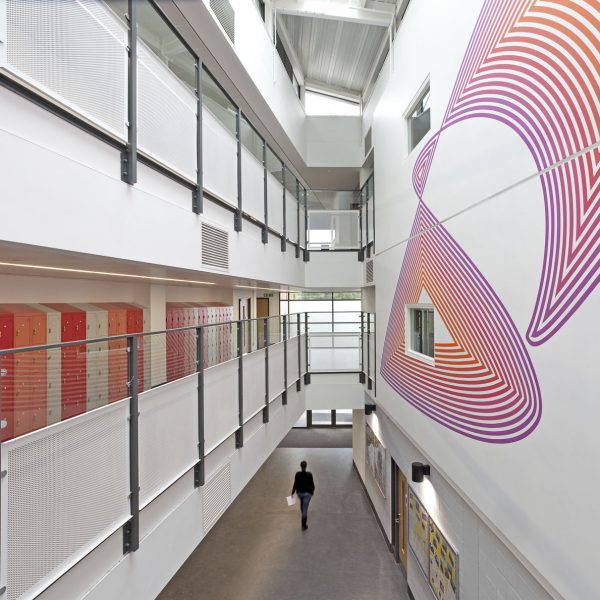 Description
As part of the development Bristol City Council commissioned Polish artist Jarosław Fliciński to create a new artwork within the school building, working closely with the school development team, comprising the school head, staff, pupils, contractor, project architect and other stakeholders. 
Fliciński began work in 2009 following a selection process that included pupils from the schools, the art teacher and head. The work was completed in early 2011. Fliciński belongs to a new generation of young Polish artists whose work reflects upon the modernist and constructivist movement, characterized by a hard edge and graphic style and a nod to design. He produces monumental wall paintings composed of concentric ellipses, grids and patterns generating optically distorting physical environments that engage in a creative dialogue with the architecture and spaces they inhabit. For Fliciński painting is an autonomous language in a constant process of transformation and evolution, where sources as diverse as Hard Edge Painting, grid-forms and even designs from tablecloths collide. 
Architecture is central to the artists practice and Fliciński incorporates his paintings directly into architecture itself. His works become an additional layer to the architectural experience; adding extra meanings to a particular environment. Painted on an autonomous medium or directly on the wall, his pictures enter into unexpected relationships with each other and with the architecture, creating an effect of dramatic spatial and temporal tension. This is often achieved through the use of strong colour and shape, which come together to form hypnotic or optically distorting images. 
At Ashton Park Fliciński has created two new giant wall paintings. Located in the schools new central atrium, 'Find your own Solution' employs a palette of purple, oranges and reds, that provides a powerful visual motif at the intersection of the schools various spaces, and which is also a reference to the schools new colour scheme (lockers) and spaces (colour coded layout plan). A second work 'Do your own Thing' is a smaller work located in a 3 storey glazed entrance/exit space. The second work is positioned with a view of Ashton Park Estate in the distance and the rich landscape that surrounds the school. The work employs a palette of green, yellows and blue's, referencing the landscape and setting, its 'speech bubble' like form referencing one of a thousand conversations or discovery's that may take place on any given day in the buildings lifetime. 
Jarosław Fliciński 
Jarosław Fliciński was born in 1963 in Warsaw, Poland. He originally trained as an architect and later turned to painting, graduating from the Academy of Fine Arts in Gdansk. He was artist in residence at the Nordic Institute of Contemporary Art in Helsinki, Sweden (1998), and at SMART Project Space in Amsterdam (2001). He was awarded by the minister of culture of the Republic of Poland in 2001, followed by the ArtsLink Foundation in New York (2002), as well as the Department of Culture in Gdansk (2002).  He has participated in a number of important arts residency programs, which include the Chinati Foundation in Marfa, Texas (2002), and Villa Arson in Nice, France (2004). Fliciński was also a member of the Pro Helvetia Program at F+F, Zürich, Switzerland (2007). 
Ashton Park School 
Ashton Park School is s a mixed comprehensive school, with a specialism in sports, for students aged 11 to 18. The school is located on the western edge of Bristol, within the Ashton Court Estate – a registered Grade 1 historic landscape. It is a post-16 centre for South-west Bristol and a Sports Specialist College. Most of its 1,150 students come from the Ashton, Southville and Bedminster areas of South Bristol.