Synopsis
Working with the music of Philip Glass, Bristol artist Luke Jerram is working with St George's Bristol to develop 'Apollo' a new artwork, created to help fundraise towards the venues capital appeal, Building a Sound Future. 
"I am delighted to provide the musical source for the soundwave. I have great affection for St George's – its intimacy, acoustics and the special relationship it allows performers to have with their audience leave abiding memories for me."
Philip Glass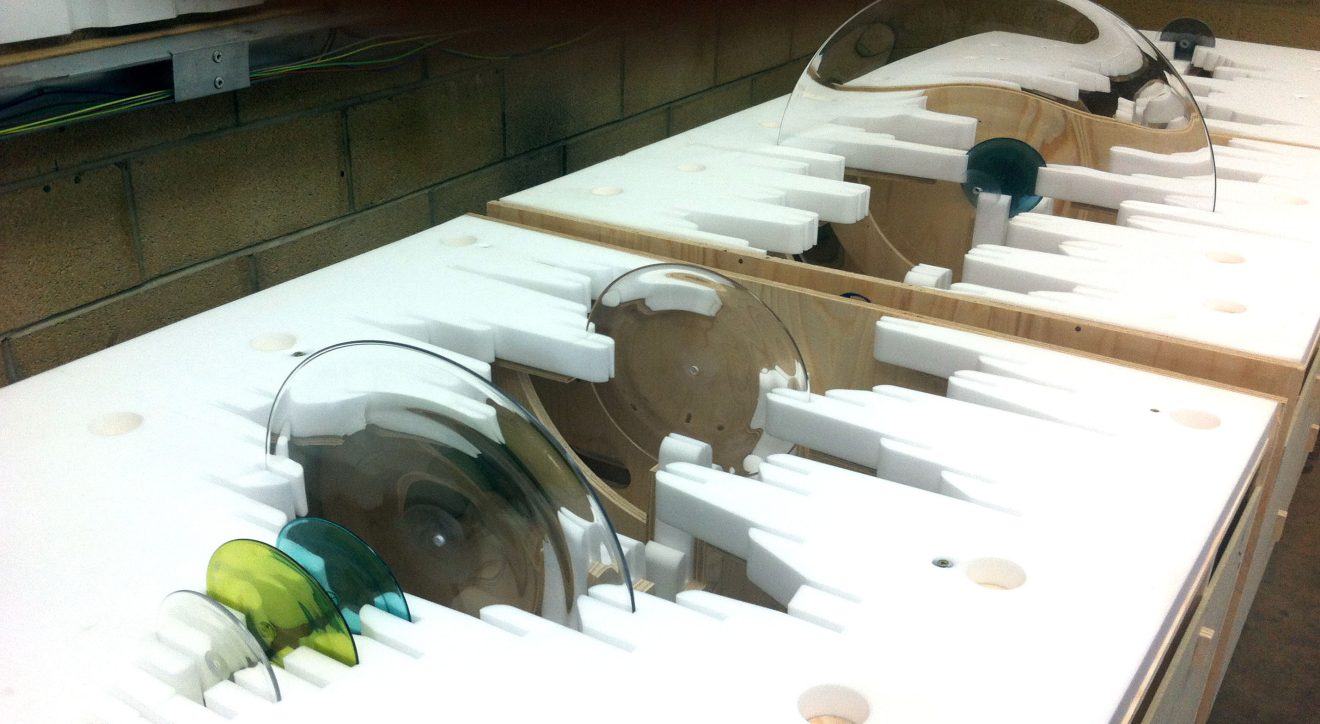 Description
The form of the artwork is made by taking a sound file from a section of famous Philip Glass music Philip Glass' Etude No 2 and rotating it about its axis. The music is especially fitting as Philip performed it at his first visit to St George's in 2013. The sound-wave sculpture, entitled Apollo (for the Greek God of music), will consist of approximately 100 hand-blown coloured glass roundels fused together. 
Luke Jerram is interested in making visible and tangible, that which is invisible and beyond the range of our senses. Here, invisible sound waves are rotated, solidified and turned to glass. 
A fitting symbol of the transformed St George's, a world class concert hall which celebrates music in all its forms, the 3.5 metre tall sculpture will be suspended in the foyer of St George's new extension building when it opens in the winter of 2017. 
Jerram will use hand-blown glass roundels to create Apollo and individuals and companies are invited to sponsor each roundel. Funding to design and produce the sculpture has already been secured.  So far over £300,000 has been raised through the Apollo art work towards the St George's £5.5 m Building a Sound Future capital appeal to provide new world-class facilities for the venue's audiences and performers. As members of the 'Apollo Club' donors will also enjoy an enduring association with St George's and this unique artistic collaboration. 
Philip Glass has performed at St George's Bristol a number of times and was the first choice as a collaborative partner. He says: "I am delighted to provide the musical source for the soundwave. I have great affection for St George's – its intimacy, acoustics and the special relationship it allows performers to have with their audience leave abiding memories for me." 
"It is especially fitting that the chosen piece is my Etudes for Piano, Vol. I, no 2 which I played on my first visit to St George's in 2013. I am happy to be able to play a part in St George's exciting plans and look forward to seeing the finished piece." said Philip Glass 
Suzanne Rolt, CEO of St George's adds: "Our Building a Sound Future appeal is really gaining momentum and will hope this latest stage will gather even more attention and support. The creation of Apollo is the main focus for our final push towards the £5.5m target. We want to ensure that St George's not only survives, but thrives into the coming decades. We are delighted that Luke and Philip have agreed to help us – working with an iconic composer and imaginative artist makes Apollo an exciting and spine-tingling prospect for me and St George's! We hope that others feel the same and support us." 
Further information on sponsoring a roundel and supporting the Building a Sound Future Appeal can be found at buildingasoundfuture.co.uk 
The roundels will be created by Wiltshire based glass team James Devereux Studios. 
Luke Jerram 
Luke Jerram's multidisciplinary practice involves the creation of sculptures, installations, live arts projects and gifts. Living in Bristol but working internationally since his career began in 1997, Jerram has created a number of extraordinary art projects which have excited and inspired people around the globe. He is currently Visiting Senior Research Fellow at CFPR, University of West of England. 
Jerram is known worldwide for his large scale public engagement artworks. His celebrated street pianos installation 'Play Me, I'm Yours' has been presented in over 55 cities so far, reaching an audience to date of over 10 million people around the world. Launched by the French Minister of Culture in Paris and Mayor Bloomberg in NYC, the installation has received press coverage in almost every newspaper and television station around the globe. 
In 2000 Jerram taught in war torn Mostar, Bosnia and he continues to teach and lecture both in the UK and abroad. His most notable lectures include those at The Banff Centre, ROM – Royal Ontario Museum, ICA – Institute of Contemporary Art, Corning Museum, The Wellcome Collection, Royal College of Art, The Ruskin School of Art, University of Washington, and Nagoya University. 
St George's 
St George's Bristol is one of the country's leading concert halls. It boasts a superb acoustic and unique atmosphere which attracts the world's best artists. A full and vibrant programme, with over 250 events each year, makes it an incredibly popular and important venue for all kinds of music. St George's is also a charity (registration number 295178) dedicated to promoting high quality music to diverse audiences by offering the best classical, jazz, blues, folk and world music as well as family concerts and talks.