2009 - 2009
Celestial Music
Synopsis
As part of the development of Colston Hall artist Michael Brennand-Wood was commissioned to develop a new work for the £2.2 million extension building designed by London architect Levitt Bernstein which includes a new foyer performance space and bar area.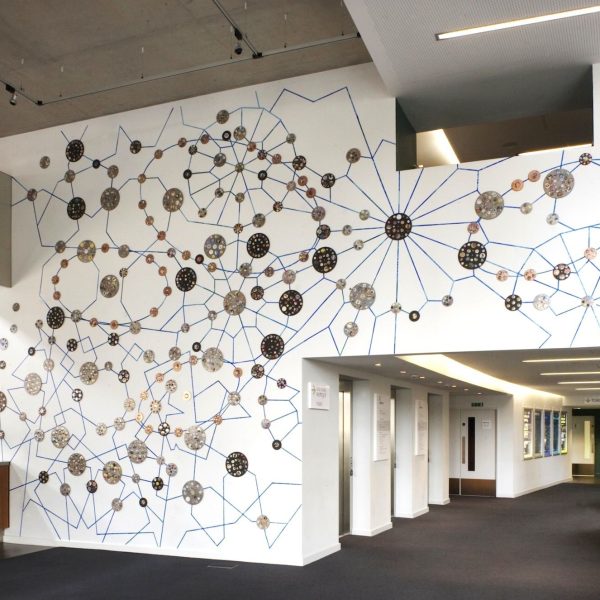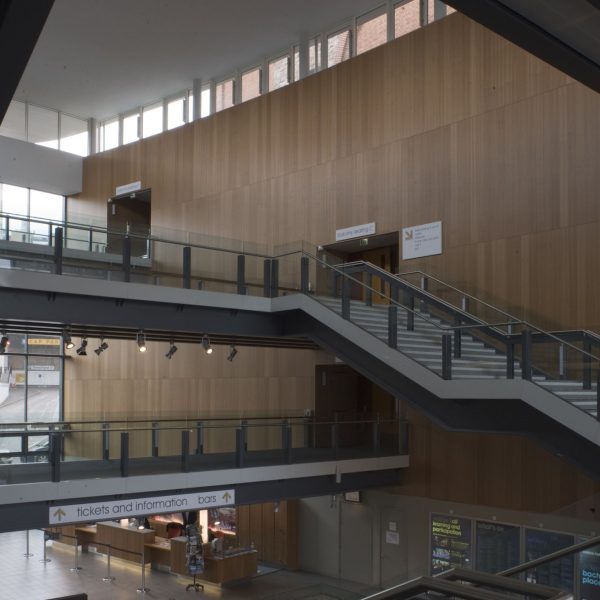 Description
Brennand-Wood's wall piece was made for the bar space and covers an enormous wall. Made up of a series of different-sized flat metal discs, the work appears to look like a giant star chart with each disc linked by bold geometric lines that from a distance create a giant, lace-like pattern. On closer inspection you can see that each disc symbolises either a CD, album or single, each decorated with a series of music badges, and together making up a diagram symbolising the relationships between different musical forms. 'I envisage the work as a musical constellation of musical genres, carefully mapped to indicate musical connections and hybridization,' explains Brennand-Wood. 
Michael Brennand – Wood 
Michael Brennand – Wood visual artist, curator, lecturer, arts consultant. Is internationally regarded as one of the most innovative and inspiring artists working in textiles. He has occupied a central position in the research, origination and advocacy of Contemporary International Art Textiles. A defining characteristic of his work has been a sustained commitment to the conceptual synthesis of contemporary and historical sources, in particular the exploration of three-dimensional line, structure and pattern. He has persistently worked within contested areas of textile practice, embroidery, pattern, lace and recently floral imagery. Sites, which offer unbroken traditions, cross cultural interventions and a freedom to work outside the mainstream. He believes that the most innovative contemporary textiles emanate from an assured understanding of both textile technique and history. 
Examples of Michaels work can be seen in major public, corporate and private collections worldwide including the Victoria and Albert Museum, the 21st Century Museum of Contemporary Art, Kanazawa and National Gallery of Australia, Canberra. He won The Creative Concept Award in 1987 and The Fine Art Award in 1989 at the International Textile Competition in Kyoto, followed by the first RSA Art for Architecture Award 1990. 
In 1982 he curated the controversial exhibition 'Fabric and Form' and co-curated the 'Makers Eye' both for the Crafts Council, followed in 1992 with 'Restless Shadows' a major Goldsmiths College touring exhibition of contemporary Japanese Textiles. Until 1989 he was a senior lecturer in the department of visual art at Goldsmiths College, University of London. He has taught extensively in colleges and universities in the UK and overseas, and has undertaken residencies in Japan, Australia, New Zealand, Canada, and Belgium. He was appointed Visiting Professor at Manchester Metropolitan University in 2005 and is Research Fellow at the University of Ulster.