2006 - 2006
Roche (Bronze)
Synopsis
Cabot Circus is a shopping centre adjacent to Broadmead shopping district which opened in September 2008, after a ten-year planning and building project costing £500 million. The Cabot Circus development contains shops, offices, a cinema, hotel and 250 apartments and covers a total of 139,350 m2 (1,500,000 sq. ft.) of floor space. As part of the development London based art consultants InSite Arts were commissioned to develop a permanent and temporary public art commissions programme which included 'Roche (Bronze)' by Susanna Heron.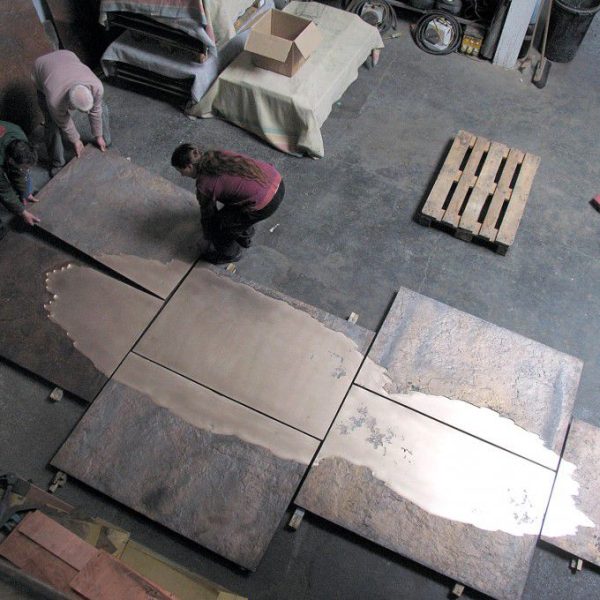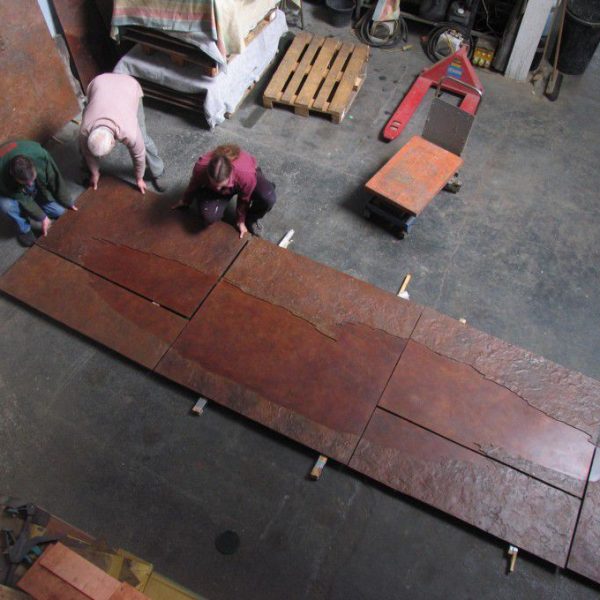 Description
Susanna Heron worked in collaboration with architects Stanton Williams to develop a unique work of art for the House of Fraser's landmark store named after the stone used for the building. The building comprises massive cubic volumes at its upper levels, juxtaposed and cantilevered out above a single-storey plinth. Their dynamic sculptural form recalls shifting tectonic blocks, an impression reinforced by the fossil-rich Roach bed Portland stone with which they are predominantly clad. Large windows and narrow vertical glazed 'faults' punctuate the stonework, adding to the sense of movement and allowing views out. Those at the corners appear not as lightweight openings, but rather as solid, reflective blocks by day and beacons of light at night which signals the store's presence at the gateway to the city. 
For the commission Heron developed a street level artwork; a 35 m x 7 m cast bronze artwork which has been integrated into the Portland fossil stone facade of the department store. Running the full length of the building facade on Bond Street South, these individually cast bronze panels feature a unique textured surface, similar to molten lava. Continuing the themes of marine fossils, reflection and shadow-play the artist has milled a series of recessed forms as smooth flat planes into the organic surface of the bronze. 
The work is complimented by a secondary work within the building glazing, entitled 'Roche (Glass), a sandblasted and etched three storey glass window, 14.4 m x 13.4 m located above the bronze frieze. The work is based on drawings made in response to the stone, surfaces, scale and geometry of the architecture to bring an awareness of changing light. 
Susanna Heron 
Susanna Heron is an artist who has gained international recognition for her collaborations with architects and large-scale site specific works since the completion of major commissions for The British Embassy in Dublin and The Council Building for the European Union in Brussels in 1995. Recent works include a major work of art entitled 'Still Point' for the garden of The Metropolitan Cathedral Liverpool: the work takes the form of an 18 metre diameter stone plinth, an engraved poem by the artist and a song which was sung by the Cathedral choir at the inauguration in 2007. The same year she collaborated with Levitt Bernstein Architects to make an exterior work which runs the length of the Brunswick Centre in Bloomsbury at the heart of the scheme. 
Other major collaborations include 'Side Street' for City Inn Westminster 2003, 'The Phoenix Initiative', Coventry 2003 (shortlisted for the Sterling Prize 2004), a five-storey structural glass wall '36 Elements: Glass Wall' for the Marunouchi Building in Tokyo 2002, and 'The Sunken Courtyard' for Hackney Community College, Hoxton 1997. From 1999-2005 she was Project Artist for Arnolfini Capital Project, Bristol, collaborating on the design and advising on the space and function of the building as a member of the Design Team. She was made an honorary Fellow of the Royal Institute of British Architects in 1999. Her studio-based work is included in public collections internationally and she has had solo exhibitions at the Mead Gallery at Warwick University, Camden Art Centre and Whitechapel Art Gallery amongst others. Susanna Heron has lived and worked in the East End of London since 1978. She occupied a SPACE Studio at Old Ford near the Olympic Site for 25 years and recently moved into her own studio near north Brick Lane, a ten minute walk from Hoxton Square. She works closely with her project manager Mary Hogben of Hogben and Hale Architects to procure her large scale works. 
InSite Arts 
InSite Arts is a public art organisation founded by Sarah Collicott and Sam Wilkinson in 2001. InSite Arts works in partnership with its clients to generate and deliver innovative and relevant public art and arts initiatives in diversity of scales and in a wide variety of media. 
InSite Arts develop strategies and artworks and have commissioned a wide range of projects from temporary events to permanent installations, from the more intimately scaled art projects through to major landmark installations integrated into the public realm and architectural schemes. 
At the heart of their work is our staunch commitment to commissioning artwork which will inspire and intrigue, which become a fundamental part of a successful building, development, town or city. This can only be achieved by working closely with and supporting artists and clients throughout the course of the art project/programme, through to installation. Successfully conceived and delivered public artworks draw inspiration from a thorough understanding of location, the potential 'audience', history of the site and the aspirations of client and design team.