2010 - 2011
Tim Etchells: Various works (IBT 10)
By Tim Etchells
Synopsis
Tim Etchells' work is diverse, extending across visual art, sound arts, performance, and creative and academic writing. In his performance and art practice, Etchells' work is often concerned with liveness and presence, with the unfolding of events in a time and place. At the centre of many projects there is a fascination with rules and systems in language and in culture, and the way these systems are constraining. In addition, many works imply an opposed simultaneity – an event, object or idea that is at once assembled and unraveled.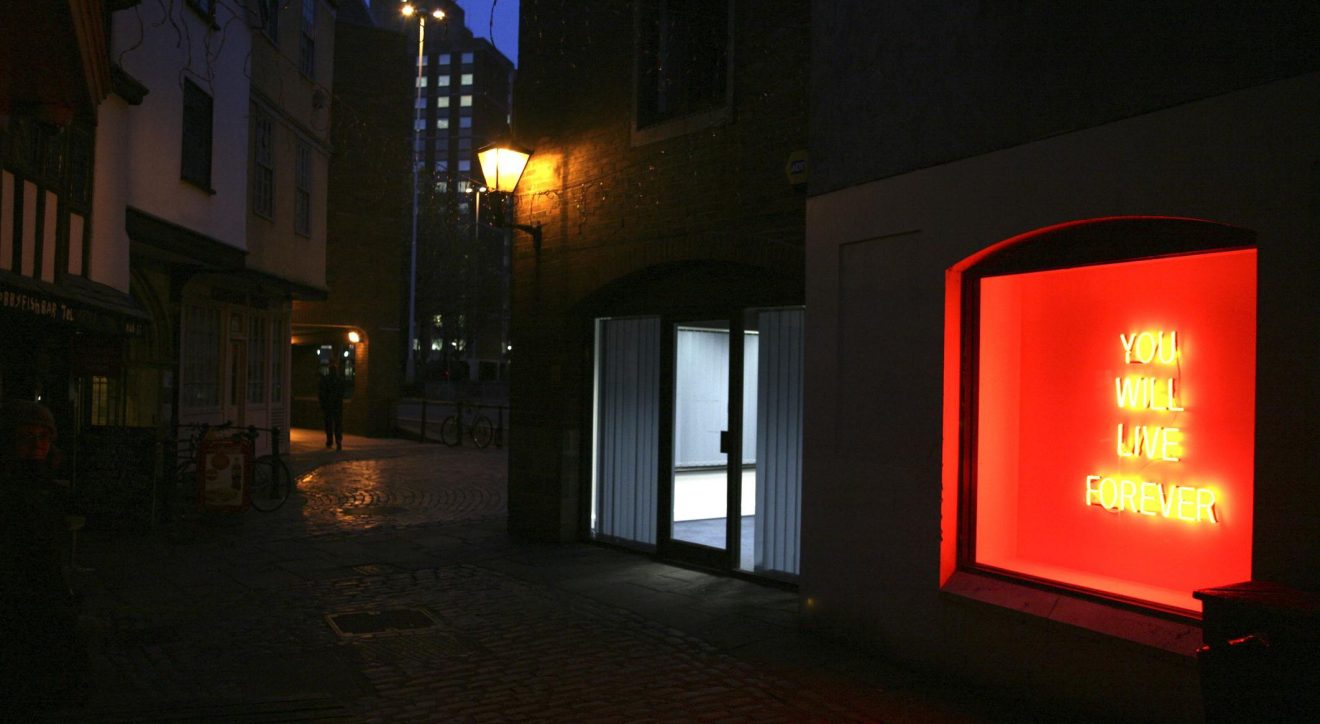 Description
During 2010 Etchells was invited to install a number of works around Bristol as part of In Between Time 10: 'What Next for the Body' which took place over five days, across the streets and art spaces of Bristol. Between December 2010 and February 2011 the artist exhibited three works in Bristol including 'Fading Glory', which was installed in the disused Control Room of Redcliffe Bridge in Bristol's docks area and 'Please Come Back' which was installed in a shop window off Colston Avenue. 
Through simple phrases spelt out in neon, Etchells create miniature narratives, moments of confusion, awkwardness, reflection and intimacy in public and gallery settings. Encountering these signs, in the streets of a city or in the space of a white cube gallery, the viewer becomes implicated in a situation that's not fully revealed. As often in Etchells' work, the missing parts of the picture are as important as the elements that are present. Invoking a story or projecting an idea out-of-context into the situation of the work invites us in, but into what exactly we can't be sure. This is particularly apparent in the work 'Please Come Back, which suggests both an intimate relationship with its author and a situation of our past conflict and consequent departure from some place, none of which can be fully inferred or understood from the information supplied. A further tension exists between the personal topic and supposed urgency of the text on the one hand and the overly elaborate means of its display. A message most suitable or likely for a private communication is here turned into a public plea, producing a host of confusions and amplifications in respect of its status and significance 
Tim Etchells 
Etchells was born in 1962 and lives and works in Sheffield, UK. In recent years he has exhibited widely in the context of visual arts, participating in: Manifesta 7, Trentino (2008), Goteborg Bienale, Goteborg (2009), Aichi Trienale, Nagoya (2010), and Manifesta 9, Limburg (2012). He has had solo shows at Gasworks and Sketch, London, Bunkier Sztuki, Krakow, Galerije Jakopič, Ljubljana and Künstlerhaus, Bremen. Etchells received a major public art commission from Situations in Bristol in 2010 for two projects as part of the Wonders of Weston series and between 2008 and 2013 he was the recipient of The Legacy: Thinker in Residence Award, a joint initiative by the Live Art Development Agency and Tate Research. 
In Between Time 
In Between Time is an international production company creating extraordinary art works, and the biennial In Between Time Festival. We encourage artists and audiences to think, to dream, to do things they have not yet imagined.