2020 - 2022
Trinity Vortex – Trinity Academy, Bristol
Synopsis
Spearheaded by Bristol artist Synnøve Fredericks, this stunning aerial steam bent ash sculpture Trinity Vortex was collaboratively designed with year 8 students of Trinity Academy Lockleaze and crafted with support from a Bristol based team of wood millers, boat builders, lighting designers, engineers, and riggers.
Bricks was commissioned by Bristol City Council to deliver the public art programme for the new Trinity Academy.  Synnøve Fredericks' proposal was selected from an open commission call to local artists in 2021.
Description
Trinity Vortex is a celebratory aerial ash sculpture, created collaboratively by artist Synnøve Fredericks and students from Trinity Academy, Lockleaze.
Commissioned by Bristol City Council and Produced by Bricks, this public art programme supports and celebrates Trinity Academy's cultural ambition for every pupil to have 'access to enrichment opportunities, in particular in music and the performing arts'.
The form of this ambitious hanging steam bent artwork was devised by the artist and students using a series of movement and music workshops and takes inspiration from the school's values of 'Head, Heart and Soul'.
To kick off the devising collaboration process, students selected Beethoven's 5 Secrets by The Piano Guys to represent the Academy's inclusive ethos and act as creative inspiration for the workshops and final design.
The resulting artwork is a beautiful and organic rising spiral of steam bent strips of ash. Symbolising a welcome invitation to all that study, work, and visit the Academy. It is a dynamic vortex, beginning as a tighter form, then growing up and outwards, to embody the Academy's belief in the power of music, movement, determination, openness, and generosity.
The skillfully milled strips of wood used in the artwork, were sourced from a felled tree suffering from ash dieback, kindly gifted to the project from the National Trust's Tyntesfield estate. The long grained wood was thermally transformed and shaped using steam bending at Rolt's Boat Yard, an historic boat building workshop in central Bristol.  The impact of the dieback, which is affecting so many trees across the UK, can be seen in the darker colouration in the strips of timber.
The sculpture was carefully hung in the academy's main entrance atrium in December 2022.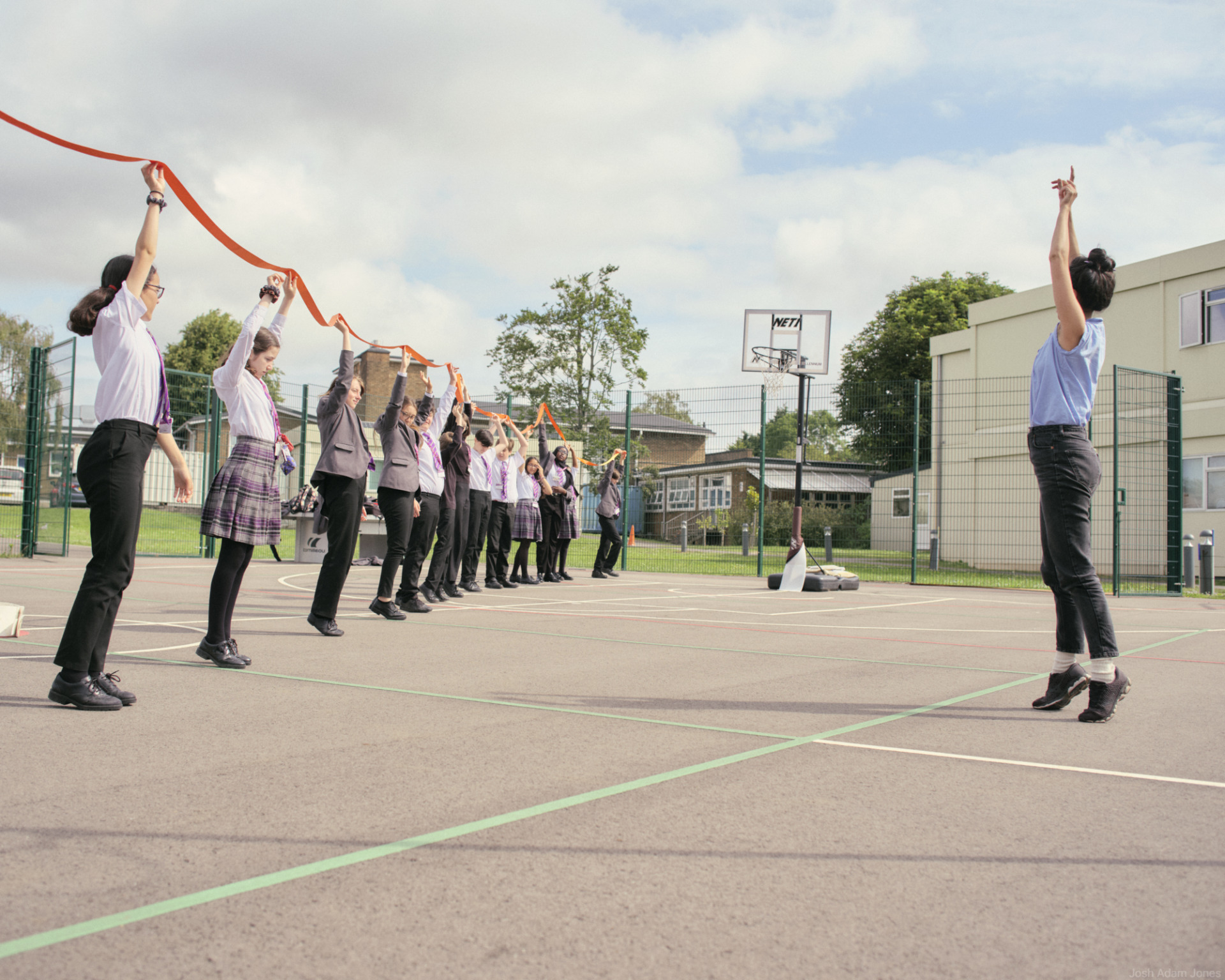 "I think it was transformational because it was just a small idea the artist had to create a sculpture, and then it's actually something that you can see here… I think we're really lucky to be a part of it, to be part of the process and then actually see the result."
Filsan, Trinity Academy Student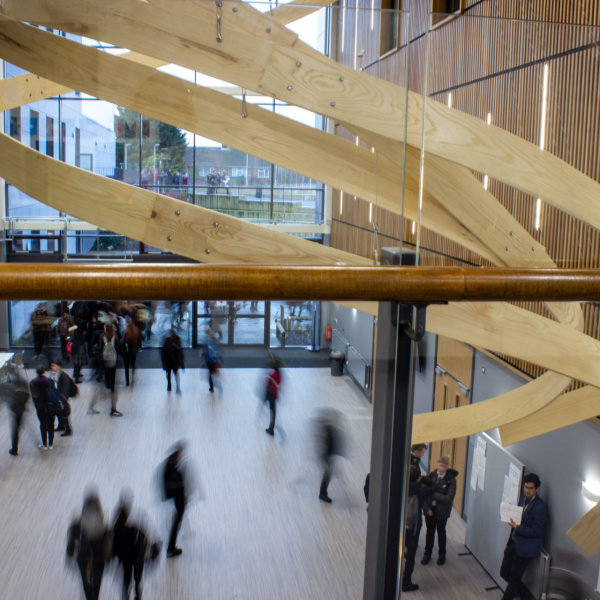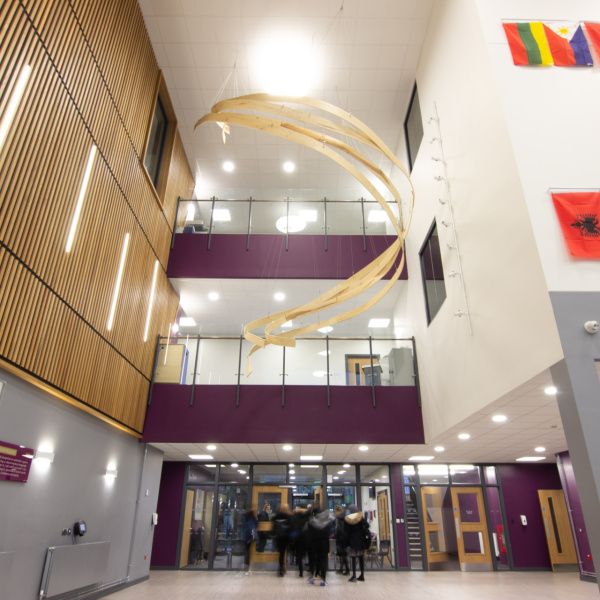 Further Reading
Synnøve Fredericks is a Bristol based sensory designer, artist and maker.
Creating installations, sets and furniture that communicate emotion, orientation and story through the senses. Trained as a designer and furniture maker, she uses a wide knowledge of sustainable materials, plants, light and sound to create tactile and welcoming spaces.
Art:  www.synnove.net @common_land
Furniture: www.armsandlegsfurniture.com @arms_and_legs_and
Bricks visited the artwork in January 2023. Five of the students who were involved in the devising process talked to us about their experience working with the artist on the project. You can see the video here.
Artist Synnøve Fredericks and podcast producer Rowan Bishop, recorded a Bricks podcast episode during the project that explores the process of making Trinity Vortex, Synnove's relationship with the new Academy and how her practice responded to the commission.
Bricks Podcasts are a chance to listen into the individual worlds of artists and creatives. Commissioned by Bricks, the episodes delve into the practice and storytelling of unique topics.
Supported by Arts Council England and BCfm.
You can listen here: www.bricksbristol.org/projects/podcasts
"'It's been such a joy to see the collaborative creative work done by Synnøve and our amazing students lead to such a dramatic and meaningful installation. The piece captures so much of what Trinity is about - Head, Heart, Soul, creativity, aspiration, dynamism and inspiration. I am reminded of these things every time I see it and I know it has captured the imagination of the whole community."
Eiron Bailey, Head Teacher, Trinity Academy Lockleaze