2006 - 2009
Urban Parterre
Synopsis
Developed as part of Grant Associates master plan for Crest Nicholson's waterside development, the Urban Parterre is an integrated artwork by Calgary based artist/architects Sans Facon.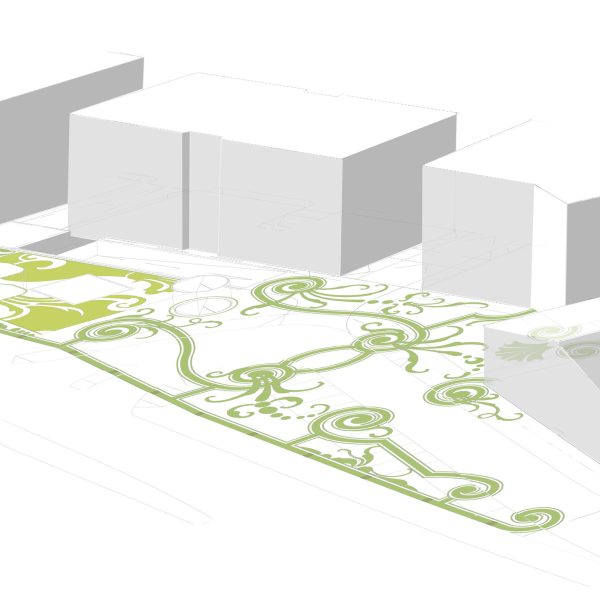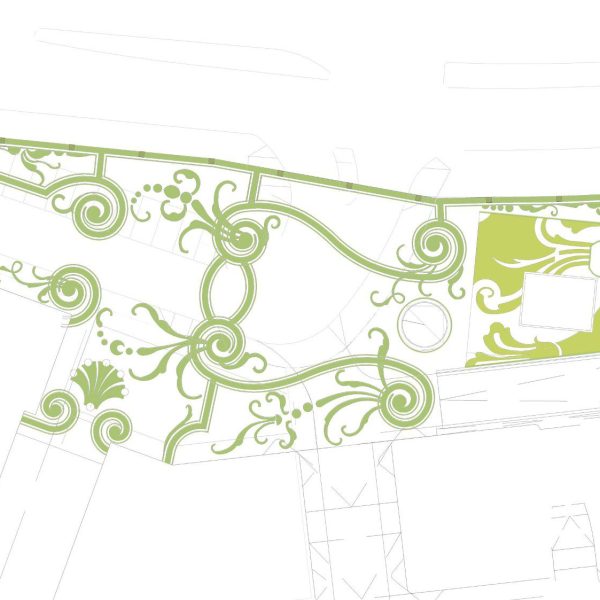 Description
Sans Facon were asked to look at an unclear area comprising of a series of residual spaces between development plots fronting the public highway, and an old industrial site. 
The site, which used to be a haven for wild vegetation was populated with many plants, some of which came from South America, carried accidentally by ships and merchandise, fig trees and pampas grasses, representing a whole life that disappears as the city redevelops. 
The design concept proposed a way to unify these spaces with the creation of a parterre carrying across the different areas, cutting through the road, the pavement, etc. Parterres were used in XVIIth century gardens as an aestheticization and a demonstration of the control of man over nature, working as a presentation of the mansion in the background. Contrary to the traditional box hedge parterre, the work at Harbourside is made of cuts in the ground surfaces to allow the urban vegetation to thrive in this controlled pattern, unifying all these left over spaces and bringing back some of the ruderal plants. 
Sans Facon 
Artist and architect duo Sans façon, Tristan Surtees and Charles Blanc, explore the relationship between people and places through their site-specific projects which range from ephemeral performances and permanent pieces in public spaces, to developing and implementing strategies involving artists in their thinking and re-qualification of specific places. 
The majority of their work renews awareness and tempts interaction with the surroundings and are developed in close collaboration with communities, organisations and individuals including City councils, theatre companies, architects and composers. 
They like to see the role of the artist and of art as a catalyst in a process of raising questions and inviting one to look and think differently. They aim to create work that can be valued, not solely as product but for what it reveals, what it allows to be seen, enjoyed and thought about. 
Artist involvement in built environment projects generates an opportunity for continuous exchange with the locale, its people, its spaces and its belonging to a wider context. Beyond a way of looking, the artists interventions allow to share a situation for all parties involved, creating continuity between the existing and the future of the place. 
Current projects include: Watershed+, a city-wide program for the City of Calgary to renew the relationship between citizens and watershed where artists and artistic practices are embedded within the City's core activities, participating as members on infrastructure design teams, contributing to project design, development of events, community education and communication; Laycock Park, part of the design team for an urban park in Calgary, including temporary and permanent interventions; Limelight: Saturday Night, an international light installation and video work exploring the potential of public spaces by expanding the role of urban lighting, replacing street lighting with theatre follow spots in ten cities; Urban Orchard, design and implementation of a public space for Worcester University City Campus.