Synopsis
Artist David Thorpe was commissioned to contribute to the physical fabric of Hengrove in order to create a long-term legacy for the area. The work was commissioned as part of Future Perfect, an area-wide public art programme for the Hengrove and Whitchurch Ward in South Bristol which was curated and developed by curator/commissioner team Theresa Bergne and Jes Fernie.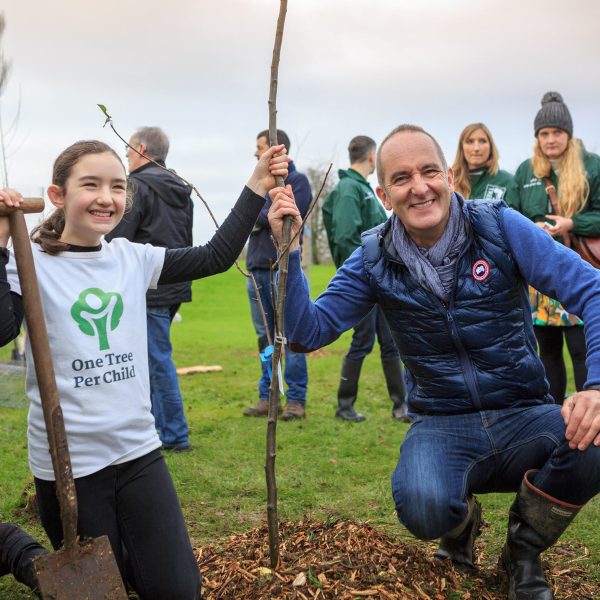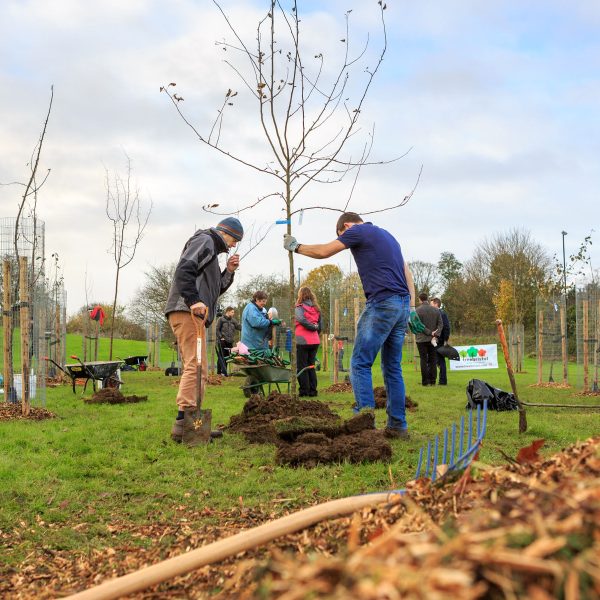 Description
David Thorpe's His community orchard was planted on Whitchurch Village Green, Hengrove in November 2015. It is made up of fruit and nut trees and takes the shape of a cathedral, complete with nave, transept and apse. Planted by local children and residents of Hengrove, the orchard is designed to be a communal meeting place and stems from Thorpe's interest in utopian English traditions, with particular reference to the work of William Morris. 
The commission was launched by George Ferguson, Mayor of Bristol, and Kevin McCloud of Grand Designs and is part of Bristol City Council's One Tree One Child project. It will take 8-10 years to grow to full maturity. 
The project will provide: 
A beautiful natural structure on Oatlands Avenue

 

An abundance of free fruits and nuts for the community

 

A meeting place for the community

 
A unique site for harvest/spring festivals and other events

 

Training opportunities in the planting and maintenance of fruit trees

 

Engagement opportunities around healthy eating and community growing

 

An organic growing legacy for all to engage with, use and share

 
Organisations involved: 
Members of Elmtree Residents Association, Tree Bristol, Horticulture Department, Skills Academy, One Tree Per Child, Parks Department Bristol City Council. 
Find out more by visiting the Future Perfect website www.futureperfectbristol.org which contains information on the artists and commissions, as well as videos and photos of activity to date. 
Further info 
Find out more by visiting the Future Perfect Web site www.futureperfectbristol.org containing information on the artists and commissions, as well as videos and photos of activity to date. 
David Thorpe 
David Thorpe is a British artist currently based in Berlin. He is interested in the democratisation of art as expressed by William Morris and John Ruskin through the Arts & Crafts Movement of the late 19th century.  His exquisite sculptures, made through intensive hand-made processes by skilled crafts-people as well as himself, are a reflection on labour as well as artistic production. 
He creates strange sealed-off worlds where the natural and the artificial, the real and the fictional, New-Age and Space-Age fuse. Thorpe has said in the past that he is continually in search of new ways of creating his own world and in much of his work there is a visceral sense of a fictional wilderness in the making. 
His practice has evolved from early work with photography and collage, to finely crafted large-scale installations made using an array of seemingly disparate media such as wood, hair, dung, rabbit skin, paint, light, leather and ceramics. 
Thorpe's work features in public and private collections in the UK, Japan and the US. He is represented by Casey Kaplan in New York, Meyer Riegger in Berlin and Maureen Paley in London.  Recent exhibitions include those at The Hepworth Wakefield, Camden Arts Centre, Zabludowicz Collection and Simon Oldfield Gallery in London as well as the Santa Barbara Museum of Art and the Los Angeles Museum of Contemporary Art in California. 
Thorpe's commitment to craftsmanship as well as his complex interest in the relationship of aesthetics to beauty was a perfect fit within the context of the Permanent Commission for Hengrove. 
Field Art Projects 
Field Art Projects is an art consultancy based in Bristol run by Theresa Bergne. Established in 1999, the organisation has more than a decade of experience commissioning visual artists, designers and performers to create permanent and temporary public artworks and event programmes. Projects include Wonders of Weston, a regeneration programme for Weston super Mare, co-curated with Situations, based at the University of the West of England, and an ambitious, award winning public art programme for The Barts Breast Care Centre in London.  Field Art Projects has recently delivered a multi-disciplinary public art project for Sovereign Housing in Barton Hill with the artist Serena Korda and are now working with the University of Bristol on a series of new commissions. 
Jes Fernie 
Jes Fernie is an independent curator and writer based in Colchester in East Anglia. She works with galleries, architectural practices and public realm organisations on public programmes, commissioning schemes and residency projects across the UK. Working primarily beyond gallery walls, she is interested in an expansive idea of contemporary artistic practice, which encompasses dialogue, research, engagement and serendipity. She is a member of many art commissioning selection panels and has worked with organisations including firstsite, Tate, Peer, Serpentine Gallery, RIBA, St Paul's Cathedral, Central St Martins, University of Essex and the RCA.