Synopsis
The Bristol Moxy public art programme celebrates the rich cultural community of St Paul's, along with the fascinating history of the area. The programme responds to historic social moments, while looking ahead to the future of the area and those who use it.
Bricks, a Bristol-based social enterprise, worked collaboratively with Vastint the developer of the Moxy hotel and local community members to commission public artworks by Lawrence Hoo and Charles Golding, Dr Myles-Jay Linton, Bo Lanyon and Lucas Antics, that draw on St Paul's people and heritage as inspiration.
Description
Moxy Hotels are renowned for collaborating with artists to bring each of their experiential hotels to life. This hotel embraced their location with a range of connected artworks, forming an art-scheme that nods to the famed creative culture which adorns the street, underpasses, back-alleys and bridges of Bristol. Numerous commissioned pieces greet guests across the walls, workstations and lockers, with some depicting iconic Bristol landmarks as well as local Bristolian sayings. Locals and guests of the hotel can find out more by using a QR code that is placed on each piece, giving more information on the individual installations and the artist.
Jewels of St Paul'sHoo and Golding produced a mixed media piece set in the ground floor windows of the Moxy Bristol Hotel. Four jewelled shapes are cut into the windows, overlaid with a poem dedicated to St Paul's and its people. Through the windows, a series of modular diamond shapes hang, cut from shards of printed Perspex to create a three dimensional sculpture featuring photography by Khali Ackford. As the viewer peers in, a combination of lights and mirrors reflect their own face back through the artwork, situating them in both St Paul's and the artwork itself.
The gem symbol weaves through the piece, speaking to similarities in the ways both communities and precious jewels are forged through pressure over time. For St Paul's, this compacting and layering of cultures has created a strong, nuanced and diverse community with many facets. The artwork invites reflection and approach from multiple perspectives, with return visits providing different experiences depending on lighting, angle and positionality of viewing, colour changes and different processes of refraction.
The artists also produced an audio accompaniment to the permanent work, with recordings of interviews with local residents set alongside a reading of the window poem. This can be found at https://www.jewelsofstpauls.co.uk
ProcessionLanyon created a large-scale painting to occupy the main lobby entrance wall that welcomes visitors to the hotel as soon as they enter. The piece is an explosion of colour and vibrancy, that pulls on images from St Paul's Carnival as well as motifs from local built heritage.
The artist worked alongside organisers of St Paul's Carnival to source photography from across its decades of annual celebrations. The resulting painting draws on figurative shapes and key colours to evoke the atmosphere of the carnival procession, with layered areas of detail that become clearer the nearer you stand to the surface.
Good and then bad and then good again
Linton created a new neon artwork for the hotel lobby's library area. The work began as a digital line drawing, and the artist partnered with signmakers Cabot Neon to turn it into a physical neon piece. It is designed to be bold, fun and inviting, to engage people who are staying in the hotel as well as draw passers by in from Newfoundland Street for a closer look.
The design of the work is typical of Linton's practice, in that bold lines depict figures in motion. This particular piece attempts to make sense of the repetition of everyday life, and an invitation to look beyond the binary of good vs. bad. The use of figures in the design reflects a need to listen to our bodies and the messages they send us about how we are feeling. The three figures in the artwork evoke this visually, with repetitions of a line drawn figure rotating along the wall, each line glowing in pink, red and orange neon.
Untitled (Lucas Antics)
Lucas Antics created artworks for the booth spaces in the ground floor bar area of the hotel. The paintings were designed to honour members of the Windrush generation who settled in St Paul's. Various flora, fauna and wildlife from the Caribbean have been woven through the imagery, as well as bright colour palettes inspired by the same.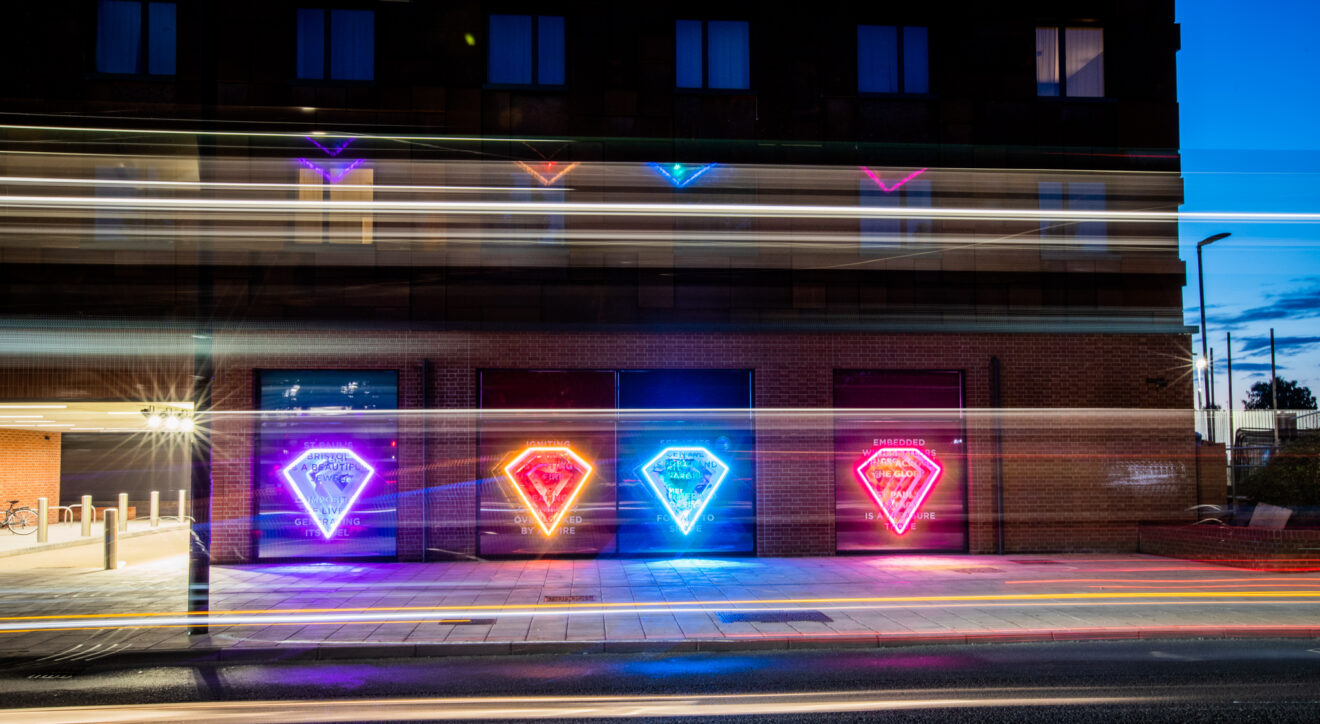 "How could we represent St. Paul's and all the change in communities and everything that's contributed to St. Paul's over quite a long timeline? We came up with the idea of a jewel. And the fact that a jewel, a diamond, it's actually created over a long period of time, created over layers and actually the pressure of these layers over time creates something that's really beautiful."
Lawrence Hoo, Artist (Jewels of St Paul's)
"It's like a warm hug or an embrace. It was kind of a welcome, 'this is how we do things'"
Bo Lanyon, Artist (Procession), on his first experience of Carnival after moving to Bristol.
"Repetition is at the core of this piece. For some, repetition could be being caught in a negative cycle, and for others it could be the growth that comes from perseverance. Then there is the confusing grey area in the middle."
Myles-Jay Linton, Artist (Good and then bad and then good again)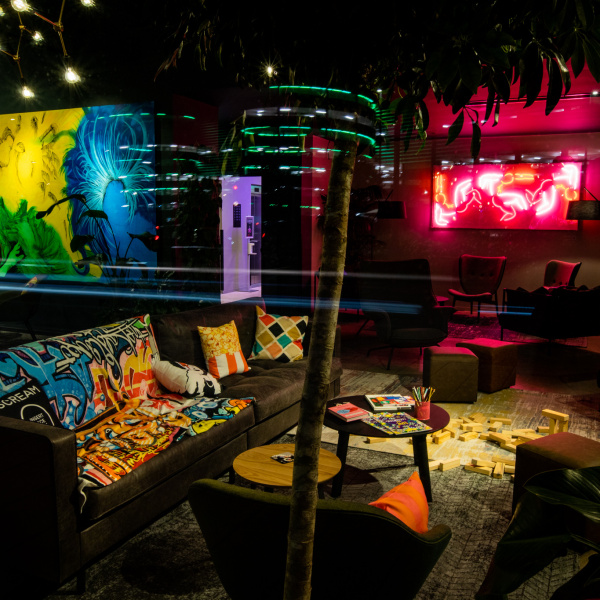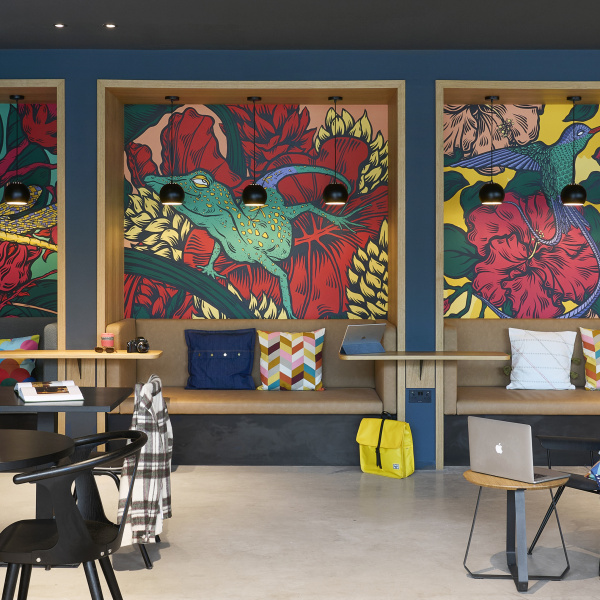 Further Reading
Lawrence Hoo is a poet and educator based in Bristol. His work is known for throwing a powerful light onto the overlooked experiences of those living in Bristol's under-supported communities. It also evokes the inspiring, under-celebrated histories which are the inheritance of Bristol's immigrant communities.
Charles Golding is a designer who creates narrative-driven immersive design. He is a dynamic art director, proficient in taking concepts from inception to completion, with a skill-set covering live action direction, 3D motion graphics, and sequencing. Both artists have worked together on multiple projects, including founding CARGO Movement and https://peoplesplatform.co.uk/.
Bo Lanyon's work explores an entangled landscape of experience. Influenced by both the history of expressionist painting & popular culture, paintings are built from layers of intense, gestural colour, as precise, illustrative elements hover in the foreground. Lanyon holds an MA from the Royal College of Art, has work in the Zabludowicz Collection and has received a number of awards from Arts Council England. Having been based in Bristol for a decade, Lanyon approached the commission excited to work on a piece that would explore the landscape of his adopted home city.
Dr Myles-Jay Linton is a figurative artist and psychologist . Key themes in his work include the connection between our bodies and our emotions, and examining recent experiences of solitude/connection. He lives 5 minutes walk away from the hotel, and was excited to participate in the development of a new building in his immediate neighbourhood.
Lucas Antics, also known as Alex Lucas, is a Bristol based illustrator, street artist & muralist. Her often dark, quirky, humorous designs can be seen painted on walls and buildings around the UK. With a love of graphic novels and raw art combined with influences as wide as Ralph Steadman (who she recently exhibited with), Gary Baseman & Egon Schiele, she has honed a unique and compelling style of her own.
To accompany the artworks by Lawrence Hoo & Charles Golding and Myles-Jay Linton, Bricks also produced two podcast episodes exploring their inspiration for the project, the public art production process and their connections to St Paul's.
Podcast Episode Podcast: Jewels of St Paul's www.bricksbristol.org/2022/05/jewels-of-st-pauls-podcast
Podcast Episode: Good and then bad and then good again  https://bricksbristol.org/2022/05/the-good-and-then-bad-and-then-good-again-podcast/
Moxy Hotels is part of the Marriott Select Brands family. Through the utilisation of new and diverse construction types, modular builds, market-targeted design options and prototypes and innovative F&B solutions, Marriott are designing the future of hospitality.
Moxy Hotels don't take themselves too seriously but they are serious about creating stylish communal spaces for guests and visitors to their hotels, containing a range of artwork that responds to local place and people.