2010 - 2010
Southmead Learning & Research / Pathology Buildings
Synopsis
This project was part of an 'enabling' phase of the PFI redevelopment of Southmead Hospital in North Bristol, involving moving various facilities to make way for the construction of the new hospital, due for completion in 2014. In partnership with North Bristol NHS Trust, Willis Newson developed and delivered a public art strategy for the development of new Learning & Research and Pathology buildings on the Southmead site. The commissioned artists were able to enter into the design process early to work alongside the architects and building contractors. This close and early collaborative working relationship between Willis Newson, the lead artists and the design and build teams was key to the success of this project, resulting in a very satisfying unified aesthetic, extending throughout the new buildings.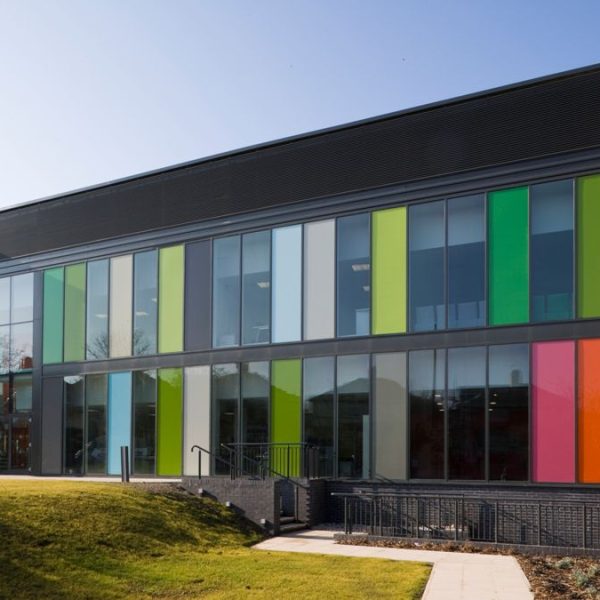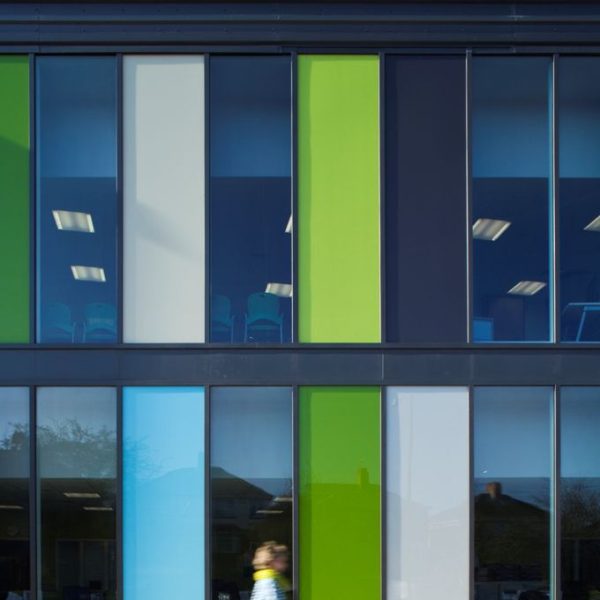 Description
Lead artist, Kate Blee designed the colour and composition of the exterior glazing cladding both buildings as well as large ceramic wall pieces for the interiors.  She worked closely with the design team to define the articulation and colours for the full height glazing forming curtain walls on the four elevations of the new buildings. The colours used were extended to louvred panels and doors and other interior spaces. 
As well as lending visual interest, the glazing provides a unifying sense of identity and connection between the two buildings, both inside and out. The design was inspired by the natural range of colour found in the trees on the Southmead site. The coloured panels have been specifically designed to provide an appropriate environment inside, without adversely affecting working conditions. 
Kate also created two large panels made of ceramic tiles for the end walls of the atrium of each building. Titled 'One in a Million', they reference the scientific methodology of the work that is done there. They reflect light and feature tactile, dynamic surfaces in which intriguing objects invite exploration. 
Perry Roberts created supergraphics for windows and walls, helping to define the identity of each building and support way-finding within them. Two large laminate panels designed in collaboration with Kate Blee and the design team, welcome people into the entrance lobby areas of both buildings. Their colours complement those of the curtain wall glazing and their patterns are derived from the names of the buildings. Perry Roberts' designs for the large amount of internal glass provide privacy for individual offices, seminar rooms and other spaces. 
artNucleus – artists Simon Ryder and Reinhild Beuther were resident for almost two years at Frenchay and Southmead Hospitals, during construction of, and following the move to the new buildings.  The resulting series of photographic artworks include some inspired by explorations of the old medical library, images reflecting analyses of chromosomal data by the genetics team and a series based on time spent in the Immunology Department. These are now on permanent display in the new buildings. 
Willis Newson 
Willis Newson is a leading Bristol-based independent arts consultancy specialising in creative approaches to improving health and wellbeing.  It develops public art strategies for new builds and refurbishments, develops and manages public art plans and public engagement programmes, delivers training for artists and performers in healthcare settings and provides advice and guidance on the design and implementation of projects to promote healthy