2015 - 2015
The Kiosk Project
Synopsis
The Kiosk Project is an on-going collaboration between artists Marcus Jefferies and Colin Higginson and was a part of the Art Weekender Bristol and Bath 2015. For the event they created a site specific, interactive installation in the form of a kiosk, acting as a base to dispense free, purpose made, souvenirs that explore the nature of place, local history and the value placed in traditional heritage.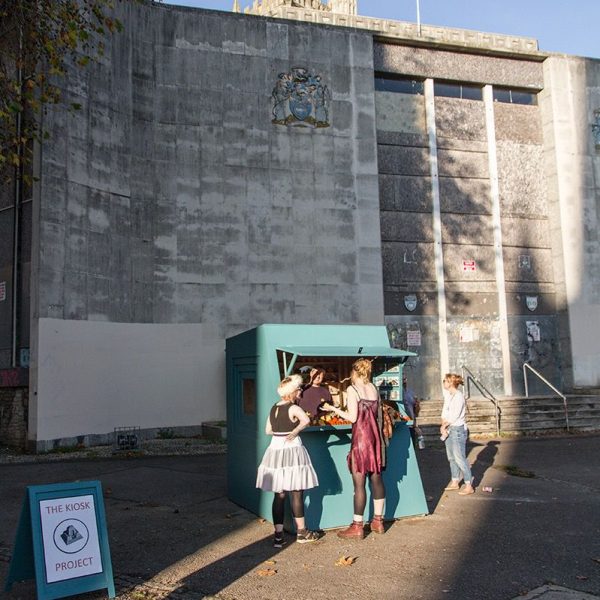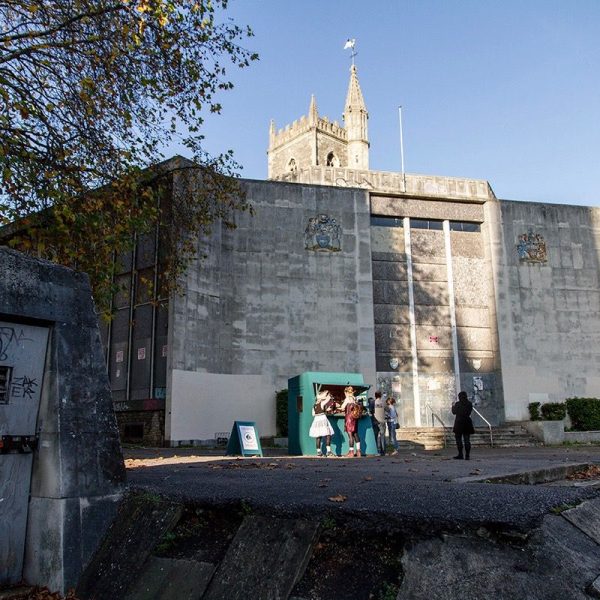 Description
The artwork was developed to celebrate a forgotten part of Bristol's city centre, enlivening the derelict surroundings by engaging people in conversation, gathering opinions and encouraging curiosity in the site and its importance to the city's history. 
The giving out of souvenirs defined a fleeting experience that invited further contemplation of the area. Visitors were encouraged to respond to the work and enter into an exchange by sending images of the souvenir in its final resting place via social media – #thekioskproject. 
Located in the grounds of the disused Norwich Union building on the edge of Castle Park in Bristol, the site incorporates two ruins – an abandoned modernist office block and a medieval church. The Kiosk project sought to investigate the relationship between these buildings and how they interact physically, historically and socially. Through the subversion of the nature of souvenirs, Jefferies and Higginson question the values commonly recognised in local heritage and cultural tourism. Their intention was to promote a sense of intrigue in the space by encouraging people to take an alternative and imaginative look at how we view and interact with the disused spaces of our city, their hidden histories and potential futures. 
Marcus Jefferies and Colin Higginson 
Marcus Jefferies and Colin Higginson have been collaborating on a regular basis since 2011. Their work explores the relationship between Architecture and memory through the production of sculpture, photography and installation. Their working process often begins with the transformation of an archive image into an immersive, interactive environment – creating new narratives through reimagining the recent past. 
Recent exhibitions include:  Art Weekender – Bristol and Bath (2015). 'Perpetual City', commissioned by Spike Island for Spike Open (2013). 'The Metropolis of Tomorrow', part of 'Sub Woofer, Ancient and Modern', Spike Island (2012). 'Hand Luggage' – Highbury studios at Baltic 39 (2012) 
Art Weekender – Bristol & Bath 
Art Weekender – Bristol & Bath was a three-day celebration of the visual arts across the two cities taking place from Friday 30 October to Sunday 1 November 2015 and is produced by Situations in partnership with over 30 arts venues, artist-led groups and arts producers. The weekender brings together exhibitions, one-off special events, artists' talks, family activities and trails, public artworks and performances by outstanding contemporary artists in multiple locations across the two cities. There is free access to almost all venues and projects.