Synopsis
British artist Richard Long was commissioned to develop a new temporary public artwork for Bristol Downs as part of his solo exhibition 'Richard Long: Time and Space', at Arnolfini during summer / autumn 2015. The artwork entitled 'Boyhood Line' was created with the support of healthcare provider Simplyhealth as part of a two year commissions programme, entitled the 'Art and the Public Realm Commission Award' to mark the construction of their new Bristol HQ.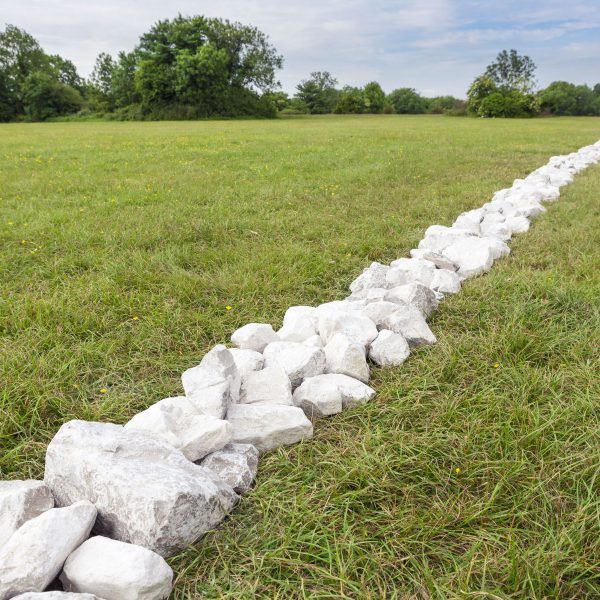 Description
Richard Long was born in Bristol and has lived locally since 1945. He spent his early years living in Clifton, and as a child he sought out the Downs, Avon Gorge and countryside close by. He has talked about the physical connection with nature and freedom that he felt as a boy playing in in these grassy, rocky places – the towpath, scree gullies and the woods of the gorge, of making campfires and toboggan runs when it snowed. 
When studying at St Martin's College in London, Long returned often to Bristol to make work, and several of the artists' key early works were made on The Downs including Snowball Track, 1964, and England, 1968. The roots of Long's engagement with the landscape can be seen in his connection to these places. They have remained areas of particular significance and he continues to work with local materials, such as mud from the River Avon, in works which are now realised across the world. 
The new work, Boyhood Line, 2015, that Long will make with white limestone centres on a footpath close to Ladies Mile, a 'desire line' which has been made over many months by the footprints of people walking across the Downs, instinctively following the same path and establishing an unplanned path through the grass. 
Richard Long 
Richard Long was born in Bristol, UK in 1945, where he continues to live and work. He studied at West of England College of Art, Bristol (1962–65), then St Martin's School of Art, London (1966–68). In 1969, Long was included in a seminal exhibition of Minimalist and Conceptual works entitled When Attitude Becomes Form at the Kunsthalle Bern for which he made a walk in the Alps that was documented by his first text work. After 1969, Long began making journeys and sculptures in wilderness places all around the world, documenting his walks with photographs, maps, and text works. In the 1980s, Long began making new types of mud works using handprints applied directly to the wall. He also continued to make large sculptures of lines and circles from slate, driftwood, footprints or stone, often sourced from quarries near the exhibition sites. 
Major solo exhibitions include Faena Arts Centre, Buenos Aires, (2014), Hamburger Bahnhof, Berlin (2010), Tate Britain, London (2009), Scottish National Gallery of Modern Art, Edinburgh (2007), San Francisco Museum of Modern Art (2006), National Museum of Modern Art, Kyoto (1996), Hayward Gallery (1991), Tate Britain (1990) and Solomon R. Guggenheim Museum, New York (1986).
He represented Britain at the 37th Venice Biennale (1976) and won the Turner Prize in 1989 after being shortlisted four times. He received the Chevalier de l'Ordre des Arts et des Lettres from the French Ministry of Culture (1990), has been elected to the Royal Academy of Arts, London (2001), was awarded Japan's Praemium Imperiale in the field of sculpture (2009) and was made a CBE in 2013. 
Arnolfini 
Arnolfini is one of Europe's leading centres for the contemporary arts, presenting innovative, experimental work in the visual arts, performance, dance, film and music and accompanied by a programme of educational activities. Five exhibition spaces, a theatre/cinema auditorium, Reading Room and Light/Dark Studios are housed in the Grade II listed, fully accessible building. The converted warehouse also contains one of the country's best arts shops as well as a Café Bar serving the best in local and seasonal produce. 
Simplyhealth 
Simplyhealth have been helping people access affordable healthcare for over 140 years. They offer a range of health cash plans, dental plans, private medical insurance and self-funded health plans to help individuals, families and businesses. Committed to providing excellent personal customer service, for the last three years they have won the Customer Commitment Award at the UK Customer Satisfaction Awards, organised by the Institute of Customer Service. For more information please visit www.simplyhealth.co.uk 
Art in the Public Realm Commission Award 
The project was produced with the kind support by Simplyhealth – Art in the Public Realm Commission Award and two year programme of public art commissions funded by Simplyhealth as part of the development of their new Bristol HQ. 
Share your pictures and comments @arnolfiniarts