2009 - 2010
Craftivism: Salon Bench Knowle West
Synopsis
Salon Bench Knowle West was produced as part of ''Craftivism' a contemporary art project held at Arnolfini in winter 2009 which examined the resurgent interest in craft as it relates to socially-engaged art practices. The Salon Bench was launched at KWMC at a celebratory event where it was presented for 4 days before being re-contextualised to Arnolfini as part of the exhibition. It was subsequently returned to KWMC, from where it toured the UK as part of The Knitting Salon.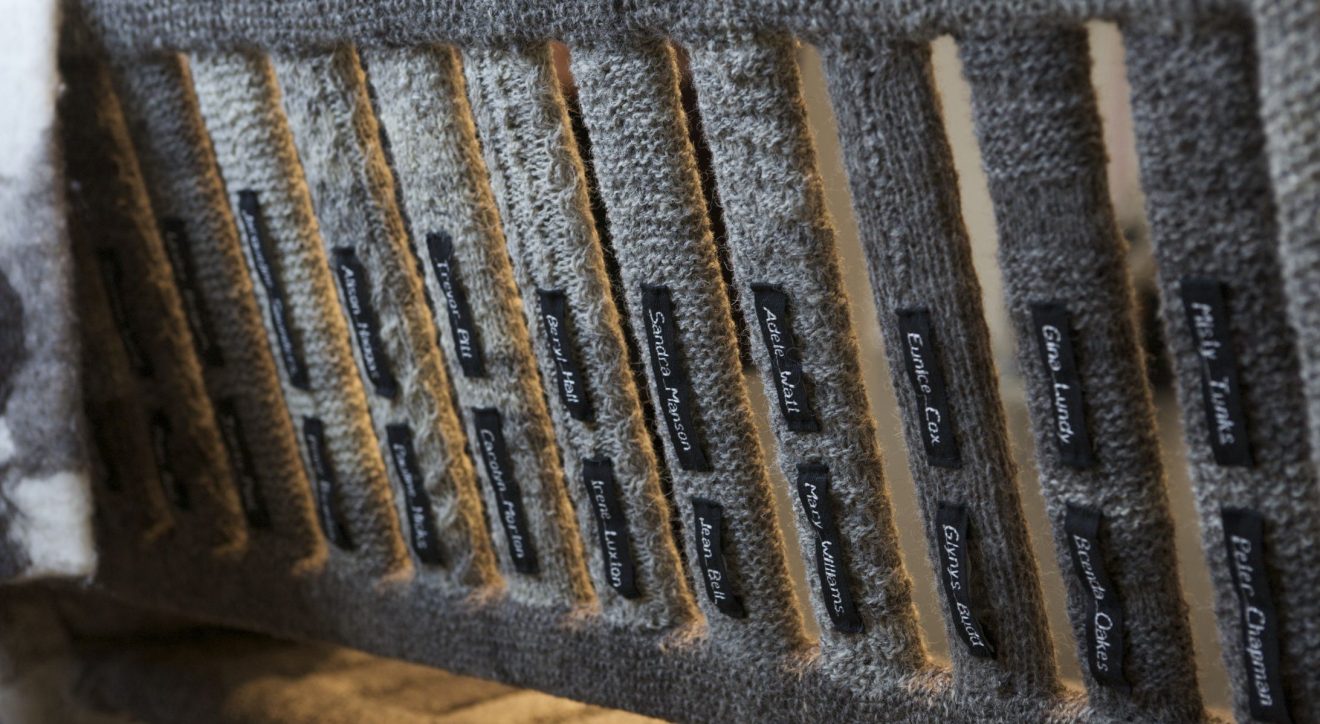 Description
This soft public sculpture was produced through a collaborative process led by artist Trevor Pitt with local knitters: Jean Bell, Lin Taylor, Sandra Manson, Mary Williams, Jacqueline Saunders, Lesley Belgium, Carmen Lord, Mabs Ball, Irene Luxton, Eunice Cox, Misty Tunks, Storm Hawthorne, Peter Chapman, Adele Watt, Michaela Macrae Simpson, Gina Lundy, Brenda Oakes and Beryl Hall. The yarn was hand spun by Alison Haggas from a local flock of Jacob sheep herded by Pauline Hicks on her smallholding in Cossington, Somerset. The fleeces were washed and carded at Wooly Shepherd, Blagdon Hill, Somerset by Valerie Grainger and Penny Bowden and felted by Carolyn Morton. The name labels were machine embroidered by Jamie Warren (VSM UK Ltd) and Kate Pemberton using the Husqvarna Viking Designer Diamond. 
Exhibition visitors were invited to use the bench as a place for knitting, sharing skills or just having a chat and were able to take away a free copy of the PK2 knitting pattern documenting the process of making Salon Bench Knowle West (2,000 leaflets were produced). In addition there was an opportunity to learn to knit by booking a session facilitated by a local knitter through the Arnolfini box office/ 
Salon Bench Knowle West is part of The Knitting Salon, a 'flock' of eight benches initiated by Trevor Pitt and Kate Pemberon and produced by self-organised knitting groups throughout the UK. The Knitting Salon promotes the sharing of knitting skills via the use of a specially designed mobile salon that comprised the eight Salon Benches. 
As part of Craftivism, it took part in A Civic Inauguration of The Knitting Salon at The Mall Bristol in Broadmead shopping centre on 16 January 10.00am to 4.00pm where sessions could be booked with experienced knitters. 
Relational 
Relational is an independent non-profit contemporary visual arts agency based in Bristol, UK. It facilitates relationships between artists, organisations and communities to produce projects that encourage critical engagement with international contemporary art. Relational's focus is on extending notions of context-led and participative working in the wider social realm. 
Arnolfini 
Arnolfini is one of Europe's leading independent, contemporary arts organizations, and is the flagship art centre for the South West of England with over 350,000 visitors annually. 2011 is the year of Arnolfini's 50th anniversary. Since its foundation in 1961, Arnolfini has built an international reputation for commissioning and presenting innovative, experimental work in the visual arts, always with a strong emphasis upon audience engagement. Many thousands of artists and performers have been involved with Arnolfini during this time, often gaining their first opportunity before going on to long-term success, and this wealth of creativity has been appreciated and enjoyed by consistently large audiences. Much of this groundbreaking work would not have been made or shown in Bristol and the South West region without the Arnolfini. Previous major solo exhibitions at Arnolfini have included: Marcel Broodthaers, Bridget Riley, Richard Long and Liam Gillick, as well as more recently Cosima von Bonin in 2011.