2022 - 2022
Glassfields – Temple Way
Synopsis
GLASSFIELDS is a new site-specific commission by artist Anouk Mercier celebrating the rich, yet little-known, history and industrial heritage of the new Temple Way development site in Bristol, once the goldsmithing quarter.
Description
Named after the plot on which it stands and nestled where the ancient goldsmithing quarter once stood – eventually overlooked by impressive Soap Works – this area of land originally lay fallow just outside of the Medieval city walls.  It is this memory of wild meadows and their scented flowers which later influenced both 18th century jewellery design and 19th century soap manufacturing, and which this new artwork evokes.
Fabricated in laser cut steel and powder coated in rich gold, GLASSFIELDS is purposefully ornate and decorative; it is designed to adorn the building on which it rests much like intricate jewellery. Arranged in four unique panels presenting an overarching floral scene, the artwork alludes to bucolic escapism and exoticism inviting the viewer to wander a newly discovered landscape. As such, it subtly hints to the function of the building that it embellishes as a place to repose and recover when travelling through distant lands.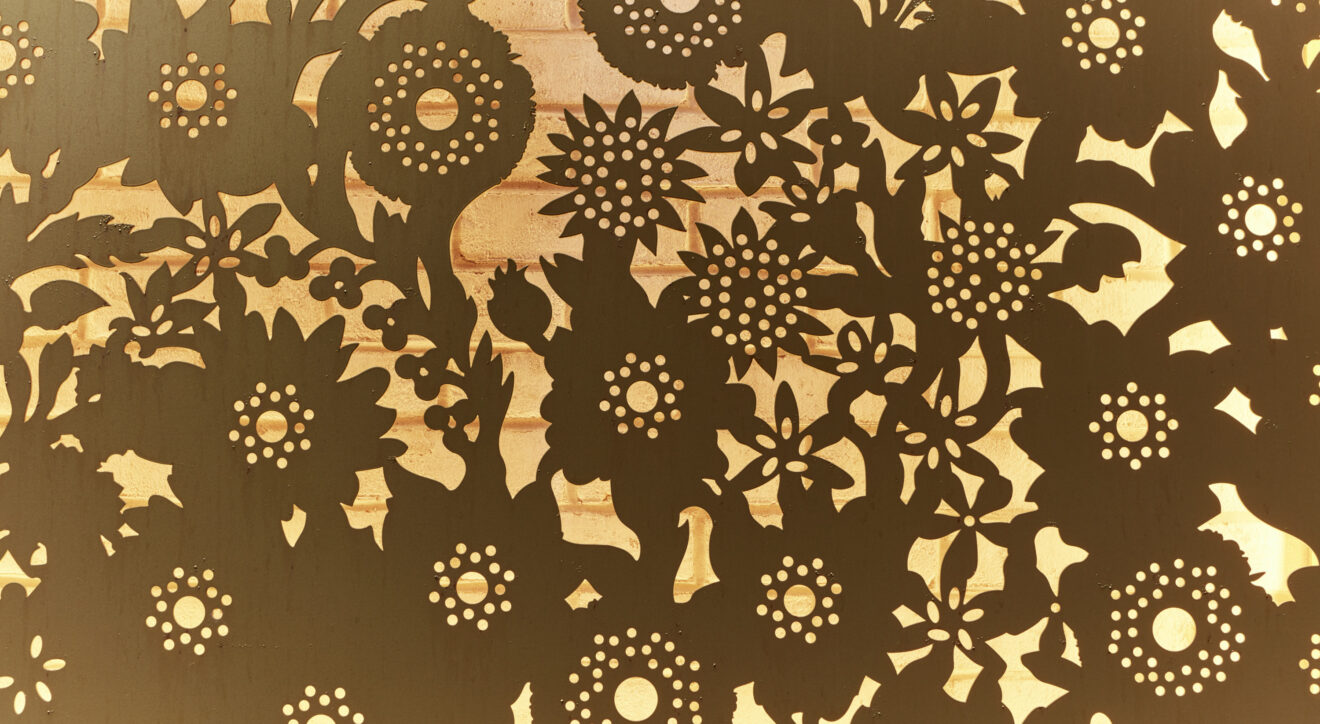 Further Reading:
Anouk Mercier's drawings rely heavily on the nostalgia of Romanticism to depict melancholic worlds, undefined by time or space. Combining fragments from 17th and 18th Century landscape etchings as well as references to Victorian postcards with her own mark making she confuses the boundaries of what is 'real', giving her works a dream-like quality and inviting the viewer to follow the paths of the fantastical landscapes depicted. Presenting the continuous search for escapism through the portrayal of a fragmented, yet beautiful ideal, Anouk's work also explores the mysterious, the abysmal and the uncanny that often lurks behind idylls.
Mercier was born in Paris, France and completed her BA (hons) Art and Visual Culture at the University of West England (UWE) Bristol. In 2018 Mercier completed a year commission for the National Trust, Stourhead. Mercier's work was shortlisted for the Jerwood Drawing Prize in 2015, was the recipient for the Contemporary Artists Explore Printmaking Bursury, supported by the Arts Council in 2013 and the ART Magazine ' Emerging Artists Award' 2011. Her work can be found in the Bristol City Museum and Art Gallery and the Chelsea and Westminster Hospital Collection.