Synopsis
As part of the overall design of Horizon House, artist Kate Maestri collaborated with the architects to develop contemporary stained glass installations for the two main entrances to the new building.
Description
Kate Maestri's interventions include a glazed entrance pavilion on Deanery Road, and canopies above the residential entrances. The artist aimed to create a flow of colour around the building, forming a unifying link between the different facades and the varied uses of the space.
The use of pattern and colour in the stained glass design for the entrance lobby relates to both the architectural detailing of the building and the surrounding vistas, creating a link with Bristol Cathedral, which stands diagonally opposite, and has a variety of stained glass windows.
This striking contemporary mouth-blown stained glass is still made in the traditional way, and was carefully transformed into structural walling by Derix Glasstudios in Germany. The green glass used deepens from transparency at street level and graduates through to a fully saturated colour at the top.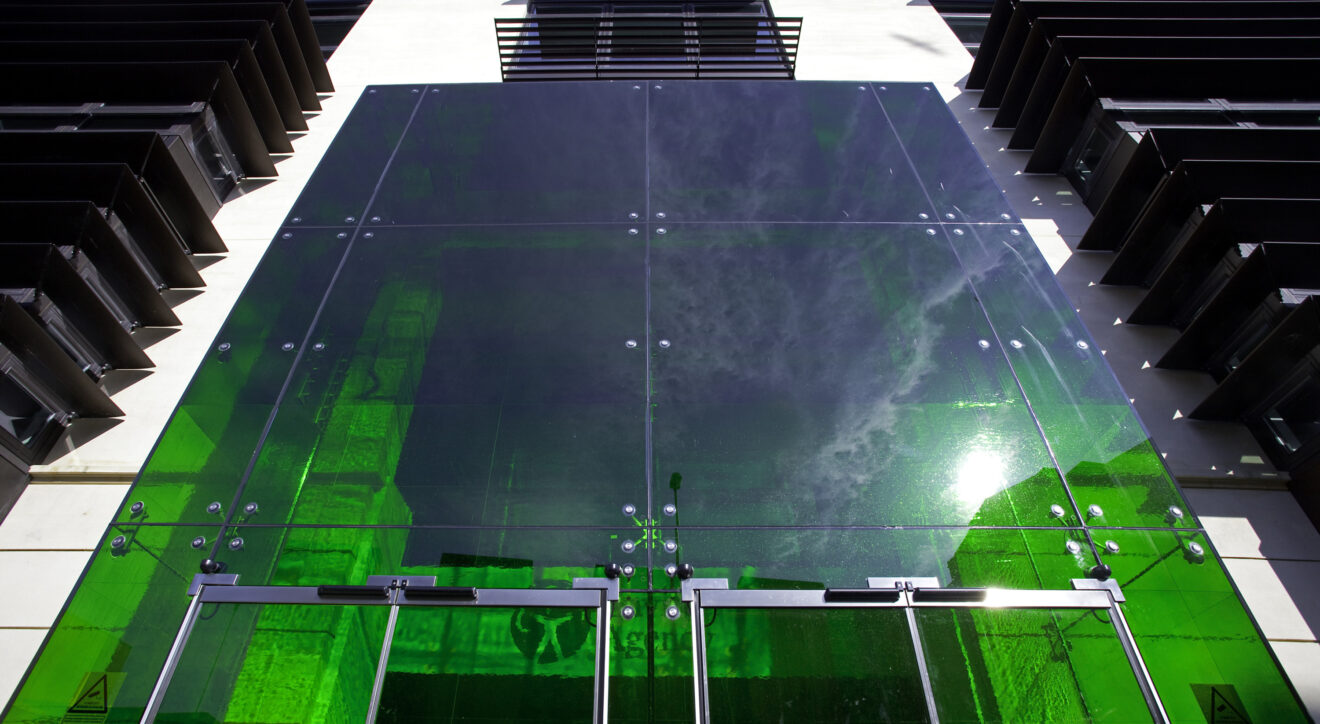 Further Reading:
London based architectural glass artist Kate Maestri works to commission on a wide range of private and public art projects throughout the UK and internationally.
Working in collaboration with architects and engineers, she designs site-specific installations that are an integral part of the building. Her artworks fuse modern technology with traditional, mouth-blown stained glass and screen-printed ceramic enamels to produce the luminous colours that characterise her work.
Major commissions during her two decades of practice include a 200-metre balustrade for the Sage Music centre in Gateshead, with architects Foster + Partners, a five-storey wall for Arlanda airport, Stockholm, an entrance pavilion for Amazon's offices in Seattle and stained-glass walls along the main concourse of Dortmund railway station in Germany.
Kate also works on a smaller scale, creating stained glass wall sculptures for exhibition and to private commission. These three-dimensional works, often inspired by modernist architecture, are cantilevered from the wall to create an illusion of floating colour.
She holds BA and MA degrees in Public Art from Chelsea School of Art and is a post-graduate in Architectural Glass studies at Central St Martins. She is a Freeman of The Worshipful Company of Glaziers.