Synopsis
Ruined is a permanent public artwork by Hew Locke sited in an 18th century cemetery garden. The work consists of a series of cast iron grave markers, which have been fabricated using the artist's original designs and relate to the share certificates and historical documents of commercial companies, which no longer exist or have undergone transformation through takeovers, bankruptcy, nationalisation or other economic or political changes.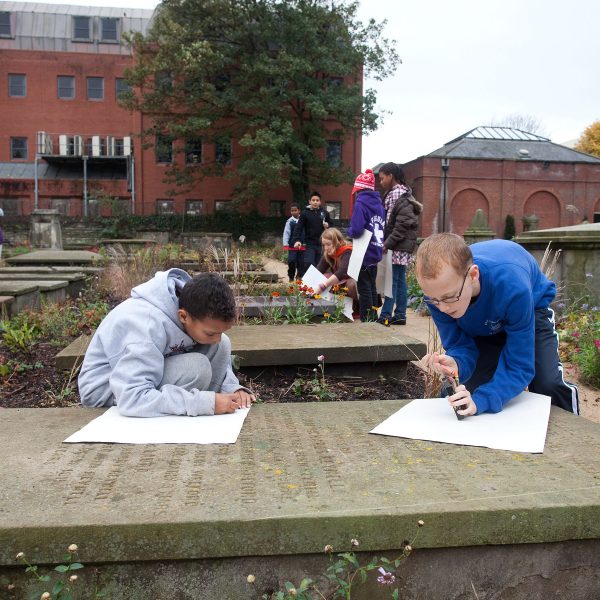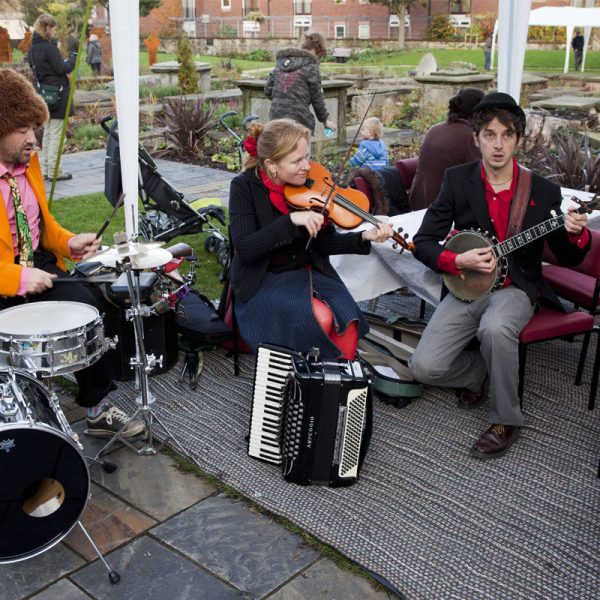 Description
Brunswick Cemetery was established around 1770 and later, it became a Unitarian burial ground until 1963 when it became a public park. The gardens retain a number of historic features including monuments, boundary walls and a Georgian mortuary chapel. Since the mid 1980s, the cemetery has been used as a public park and, following extensive re-landscaping in 2010, is now known as Brunswick Cemetery Gardens, which received a Planting Places Award in 2011.
For Ruined, Hew Locke overlaid the company information from historical documents with other forms such as drips, slashes and shrouds, and casts from objects such as cheap jewellery. In some cases, these layers obscure the underlying information and in others, draw our attention to it. Some of the companies will be well known locally for their connections to Bristol's trade history, whilst others tell of more recent global events. Ruined points to the inevitable stories of rise and fall underpinning our economy and the boom and bust of global trade. The work was launched on Saturday 13 November 2010. 
Hew Locke 
Hew Locke was born in Edinburgh and moved to Guyana where he spent his formative years before moving back to the UK. Locke is known internationally for his use of familiar symbols of power, which he embellishes and adorns in ways that might either be seen as a form of admiration or critique. 
Funders and Supporters 
Ruined was commissioned by Bristol City Council as part of the Brunswick Cemetery Gardens Improvement Project (2010) and produced by Situations. The artwork and improvements to the gardens were made possible by a Big Lottery Fund grant delivered in partnership between Bristol City Council and Places for People, with support from the Unitarian Meeting Bristol, St Paul's Unlimited and Knightstone Housing Association. 
Situations 
Situations are award winning public art producers based in Bristol. Founded in 2002, Situations opens up the potential for artists to make extraordinary ideas happen in unusual and unexpected places, inspiring audiences and participants to explore new horizons. Previous projects have included Theaster Gates, Sanctum (2015), Hew Locke, The Jurors (2015) to commemorate the Magna Carta; Michael Sailstorfer, Folkestone Digs (2014); Annika Kahrs, Concert for the Birds (2014); Katie Paterson, Future Library (2014-2114) and Futurefarmers, Flatbread Society (2013 onwards) both for Oslo; Alex Hartley, Nowhereisland (2012); Heather and Ivan Morison, Black Cloud (2009); One Day Sculpture, New Zealand (2008). Situations is an Arts Council England National Portfolio organisation and is generously supported by the Esmée Fairbairn Foundation, the John Ellerman Foundation and the University of the West of England, Bristol.