2022 - 2022
Shape of Play – The Merchants and Venturers' Academy
Synopsis
As part of the development of the new Merchants and Venturers' Academy, an extensive project that incorporates two schools on the one site (Merchants Primary Academy, and an Autistic Condition Spectrum (ASC) School, Venturers' Academy) Bristol based artists Marcus Jefferies and Colin Higginson were commissioned to develop a series of integrated artworks to create a sense of identity, imagination, community, and wellbeing for the new schools.
Description
Based at Spike Island studios, Marcus Jefferies and Colin Higginson have regularly collaborated on projects including exhibitions and work in the public realm since 2011. For the Merchants and Venturer's Academy scheme, the artists developed a series of ten inter-related permanent artworks and treatments into the design of the site's extensive hard and soft landscapes to encourage play led learning.
All artworks were developed within the framework of the design rationale which sought to provide a high-quality learning environment for pupils, featuring a contemporary aesthetic that responded to the school's requirements, while complimenting the character and identity of the local community.
Working from a premise expressed through constructional methodologies and the educational benefits of direct interaction with shapes, the artists explored the rhizome as a metaphor for how we learn, grow, and make connections to the world around us.
Shape of Play incorporates a series of ten inter-related permanent public artworks and treatments throughout the design of the school's extensive hard and soft landscapes and within the front and rear exterior spaces to encourage play led learning. A pedagogy theme introduces a repeating pattern of rhizomes and abstract forms at the entrance and façade, throughout surfaces and finishes, in addition to multiple sculptural works in the soft landscape. The artists developed an environment to inspire a sense of wonder and exploration that is visually stimulating with tactile elements including multi-sensory interventions which possess a strong sense of design consistency.
Commissioned with PONY as part of Primary/Bristol, a series of permanent contemporary art commissions for Primary Schools, that is the most significant programme of commissioning art for educational contexts in the country.
"It's great to see children interacting with the artworks & there has been a significant decrease in anti-social behaviour."
Head Teacher, Venturers' Academy
"This project firmly demonstrates the capacity for art to positively impact environments and improve wellbeing".
Carissa Andrew-Smith, PONY
"This commission was a wonderful opportunity to utilise art & design to promote curiosity and play throughout two schools".
Marcus Jefferies and Colin Higginson, Artists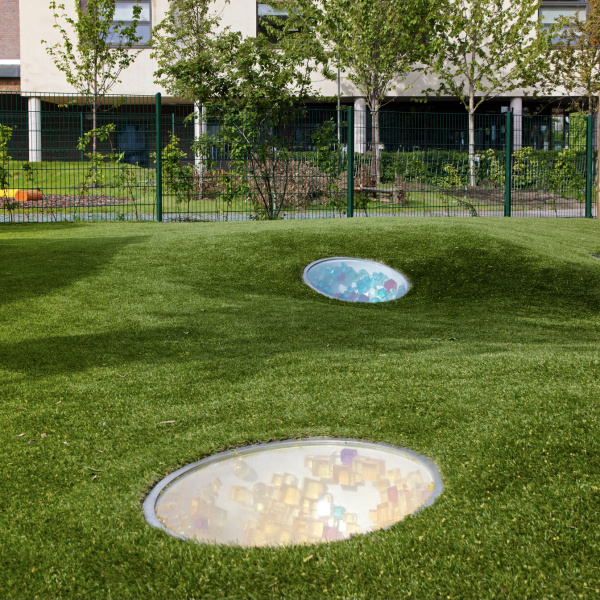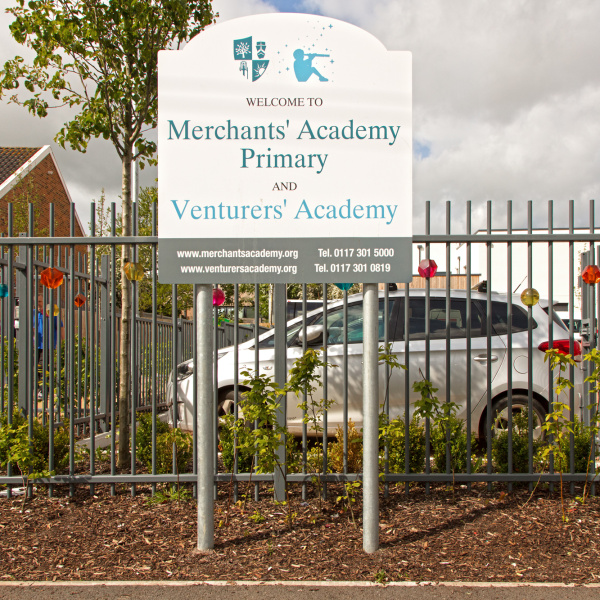 Further Reading
Marcus Jefferies and Colin Higginson have been collaborating on a regular basis since 2011. Their work explores the relationship between Architecture and memory through the production of sculpture, photography, and installation. Their working process often begins with the transformation of an archive image into an immersive, interactive environment – creating new perspectives by reimagining the recent past.
Born in Bristol, Jefferies studied fine art at Wimbledon School of Art, London. Based at Spike Island Studios, Jefferies maintains a diverse practice that incorporates painting, sculpture, installation, and design.
Public works and commissions include The Wilderness Tower, Somerset levels (2020), The Merchants and Venturers' Academy (2020), Outpost, Somerset Levels, Host (2018), Hannah More Primary School, Bristol, (2015), The Kiosk Project, Bristol Art Weekender (2015).
Exhibitions include Plymouth Contemporary, Phase 3, installation with Colin Higginson, Karst (2017), The Rules of Exchange, collaboration with Colin Higginson, Arnolfini Gallery (2017), 'Vista', Gallery 8, St James, London (2016), Test Space Open (2014) Spike Island, selected by Ruth Claxton, Marie-Anne McQuade and Edwina Ashton.
Colin Higginson's art practice incorporates sculpture, installation, photography, film, and performance. His artwork is motivated by an interest in history, memory, and representation, particularly in how meaning and value are constructed through narrative and artifice. Having an interest in archaeology, he has spent time working in the context of museums and public archives, where he developed an ongoing fascination with the relationship between the sculptural object and archival images, photographs, and film. He uses the making of sculpture and methods of display to mediate this relationship and open up alternate narratives.
Higginson is a founder and director of Art in Motion (AIM), a not-for-profit participatory arts organisation that provides opportunities for artists with learning disabilities and those who face disabling barriers to engage within the contemporary arts. www.artinmotion45.com